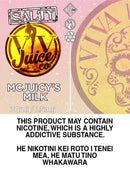 Description
Viva La Vape's own Nicotine Salts E Liquid.
30mls Bottles, 25mgs only
A sweet liquid nectar to satisfy everyones senses

It's unique creamy and custard notes will tickle your taste buds and leave you with a deliciously strawberry hint on the exhale.
Nicotine Salts are designed for low powered Device's and Pod Systems. Viva La Vape recommends avoiding Sub Ohm Devices when using this E Juice.
Stockists
Need a top up?  Grab your Viva La Vape fix fast from your nearest retailer.
2020 Vapes
2/83 Cameron Street
Whangarei